Category:LSDF Online Storage
From Lsdf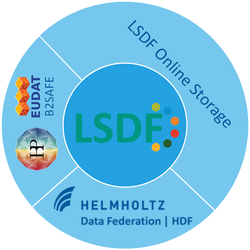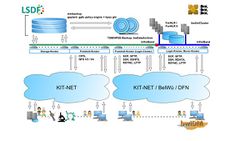 The LSDF is a central storage system for large research data from data-intensive scientific disciplines. It is available to KIT researchers, their partners in the federal state and the Helmholtz Association as a multi-petabyte storage system. The service LSDF Online Storage enables KIT users and their partners in the state of Baden-Württemberg to access the storage resources of the LSDF. The service is used by institutes with research funded by the Helmholtz Association as well as insitutes at the university level of the KIT from different scientific disciplines. The project is sponsored and funded by the Ministry of Science, Research and the Arts of Baden-Württemberg (MWK), the German Research Foundation (DFG) and the Helmholtz Association of German Research Centres. It is operated by the Steinbuch Centre for Computing (SCC) at KIT.
The LSDF enables scientists to store and access their research data via different services. These services, tailored to the requirements of the researchers, are offered on top of the LSDF storage. Important features are in particular high storage capacity, fast access to and transfer of the data, easy data access and management capabilities, as well as the connection to modern processing infrastructures such as the high-performance computing clusters based at KIT like the bwUniCluster or the ForHLR II.
Access to the data is possible via standard protocols. Permissions to access the data are controlled by the data owners using group memberships and access control lists (ACLs). The LSDF Online Storage currently offers 10PB of usable storage capacity with a combined maximum read/write speed of the storage system of 25GByte/s. Today it is used by about 400 scientists.
In order to use the LSDF Online Storage Service, interested users must first register for the service. Registration takes place via bwIDM web interface. Registration is only possible if a special Entitlement has been assigned to the user previously. Users usually receive this Entitlement after consultation with their responsible ITB or group representative or, if no project has yet been set up, by a separate request to the service operator.
If you have any questions regarding registration, requesting a new storage project or further questions, please contact the service provider via the BW support portal.
The setup and size of the available storage space is determined by agreements between the users and the service provider and technically realized by quotas. For new projects a Data Management Plan (DMP) is developed and stored in coordination with the Institute of the Users and the representatives of the service provider. The DMPs are used for reporting and applying for funding to operate, maintain and expand the LSDF. The storage space of the LSDF Online Storage is currently usually available free of charge.
Further information on the range of services and the usage of the service can be found in this Wiki the user manual and the current terms of use.
Accessing Data




Snapshots/Backup

Miscellaneous
---
Subcategories
This category has only the following subcategory.
Pages in category "LSDF Online Storage"
The following 15 pages are in this category, out of 15 total.